Don't Tax my Health Benefits!

Union = Better Wage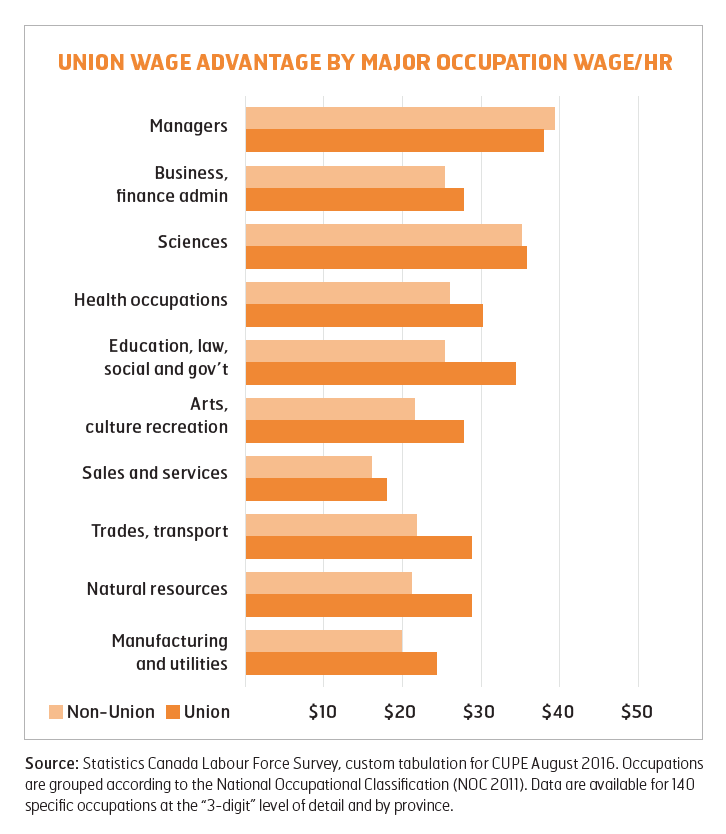 Trudeaus Pension Betrayal
New legislation from the Trudeau Liberal government is threatening the pensions of Canadian workers. Bill C-27 is an attack on good defined benefit pensions that could allow employers to break their pension promises to thousands of workers and retirees across the country.
"CUPE is strongly opposed to Bill C-27, and we are urging the federal government to stop this short-sighted and ill-conceived attack on the retirement security of Canadian workers," said Mark Hancock, national president of CUPE.
Bill C-27 will allow federally-regulated employers to retroactively change a defined benefit pension promise into insecure "target benefits" by pressuring workers and retirees into surrendering benefit promises they have already earned.
"During the last election, Justin Trudeau clearly promised to protect good, fair defined benefit pensions from being retroactively changed to target benefit plans. Bill C-27 breaks that promise," said Hancock. "Prime Minister Trudeau must immediately withdraw this extremely irresponsible and mean-spirited legislation."
Converting defined benefit pensions to a target benefit model shifts virtually all risk onto workers and retirees. Bill C-27 could essentially allow employers to walk away from pension commitments to their workers, and leave thousands of Canadians abandoned in retirement.
While Bill C-27 only applies to federally regulated employers, CUPE warns that if it is passed into law it will set a dangerous precedent for other jurisdictions, and put more pressure on defined benefit pension plans.
The Wilson Report
Paul Bocking's review of the Wilson Report
bluffsadvocate.ca
Download the full report Wilson's Report on the TDSB
For more information: Five Questions for the Education Minister
labourcouncil.ca
Why the Minister's "solutions" cannot "solve the problems" at the TDSB
labourcouncil.ca
The view from inside a reeling TDSB
thestar.com
Ontario is rolling back school board democracy
thestar.com
CIty of Toronto Finances
After years of pretending that Canada's largest city can deliver services, maintain aging infrastructure and tackle the effects of climate change without raising money, a new consensus
is emerging on the need for new sources of city revenue. It's no secret that after the provincial government downloading of programs and costs, the city has experienced tremendous
constraint. Labour Council will continue to advocate for the federal and provincial governments to cover the cost of key programs such as transit operations and social housing. But there is even further pressure as Mayor Tory adds billions in costs for the Gardiner, SmartTrack and Scarborough subway.
Read more...
Facing domestic violence shouldn't mean losing your job
Occasional Teacher Zone Maps
New 2014-2018 TDSB Trustees
Thank you to all OTBU members who worked on the campaigns of school trustees across the city. Amid significant turnover on the board, a strong group of progressive trustees (old and new) were elected. Occasional Teachers have an important stake in the composition of the board, which oversees our working conditions through collective bargaining. The list below was released by the TDSB:

Ward 1 - Michael Ford (new)
Ward 2 - Chris Glover
Ward 3 - Pamela Gough
Ward 4 - Tiffany Ford (new)
Ward 5 - Howard Kaplan
Ward 6 - Chris Tonks
Ward 7 - Robin Pilkey (new)
Ward 8 - Jennifer Arp (new)
Ward 9 - Marit Stiles (new)
Ward 10 - Ausma Malik (new)
Ward 11 - Shelley Laskin
Ward 12 - Alexander Brown (new)
Ward 13 - Gerri Gershon
Ward 14 - Sheila Ward
Ward 15 - Jennifer Story (new)
Ward 16 - Sheila Cary-Meagher
Ward 17 - Ken Lister (new)
Ward 18 - Parthi Kandavel (new)
Ward 19 - David Smith
Ward 20 - Manna Wong (new)
Ward 21 - Shaun Chen
Ward 22 - Jerry Chadwick
Truth & Reconciliation Tool Kits